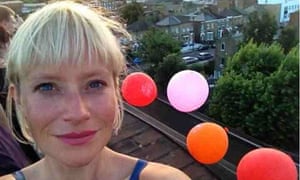 My alarm goes off at 7am and hazy-eyed I throw on my swimming costume and head to the lido across the road from my east London flat.
By 9 o'clock I'm sitting in my supervisor's family kitchen. She's also an artist and art therapist, and is presenting me with a frothy cup of coffee. I always have a head and notebook full of questions and thoughts about the children I work with and always know that although there may not be a straightforward answer, that I will come away from supervision with a fresh sense of being ready to continue the work.
I share the concerns, observations and thoughts I have about these children and we discuss this and come up with directions for my work with each child.. All art therapists must be fully registered with the Health and Care Professions Council (HCPC) and are encouraged to become full members of their professional body, the British Association of Art Therapists (BAAT).
Ten o'clock and I'm heading west, by bike, to my most frequent workplace, Bayswater families centre. I'm here Wednesdays and Fridays and in other schools and families centres across London the rest of the week.
When I get to the office at Bayswater, I'm always pleased to see a good friend and energetic work colleague who runs a mentoring programme called ChanceUK for children with behavioural issues, and my art therapy trainee who made an excellent start to her placement with me two weeks ago.
I spend the rest of my morning responding to emails. I send an art therapy report to social worker, school and family therapist, in which I recommend a parenting assessment be carried out and that consideration be given for placement of a child I have been working with for over two years at a therapeutic boarding school.
Contributing my professional opinion to the network around a child is an important aspect of my job, while being influential in this type of decision is one of the most challenging.
The children I am currently working with are dealing with issues including parental mental illness, domestic violence, drug and alcohol misuse, experience of war and bereavement.
Some of the children I see for art therapy are in foster care or are on child protection plans, often as a consequence of them having suffered some form of abuse or neglect. I tend to work with children where loss and trauma have been prevalent throughout their lives.
Many of the children are referred to me because their difficult behaviour has drawn the attention of teachers, foster-carers, parent or carer, and extended family members.
This behaviour can have many different guises, from the child presenting as withdrawn and shut off to being aggressive towards others, or self-harming. Many of these children have never been given an opportunity to express themselves about their experiences.
Art therapy sessions are weekly and for many children provide a safe, consistent and confidential space in which they are able to use the art materials and play to work through their experiences and feelings with a trusted adult in order that some understanding and transformation can take place.
In one of the sessions an 11-year-old girl creates a bejewelled sword from polystyrene, which, she says, is magic because it knows who is good and bad and can only harm the bad. We speak about how and to what extent people defend themselves, what is enough or too much and relate this to her relationships and behaviour. I am constantly moved and inspired by the creativity, and resourcefulness of the children I work with.
I briefly catch up with the art therapy student before she leaves at the end of the day. I write notes from my sessions and lock up.
After work I head to a friend's yoga class and grab dinner with her afterwards. We have a lot to catch up on so I don't get home until almost midnight – when it's PJs on, and lights out.